GRE units upto 107kW each
Note: Select design requirements from the bold type options
Gas Fired Section ——— KW rated output
The Gas Fired Section shall incorporate a purpose built Heat Exchanger Module constructed with a Zintec casing with a folded and single seam welded clam type heat exchanger of aisi409/321 stainless steel.
The burner chamber, with stainless steel burner bars, shall be fully room sealed with air for combustion and flue gases being induced witah a fan unit on the flue discharge duct. The combustion air duct shall bring air from a top/rear mounted collar within a duct opposite the burner control compartment to the underside of the burner tray, supplying combustion and excess air to the burner bars from underneath for good stable flame characteristics. The pair of top/rear mounted flue and air collars shall be piped together to atmosphere ensuring balanced atmospheric conditions on the terminals.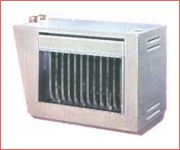 The burner control compartment, with all access for services and commissioning from the side, shall include all gas controls to current standard requirements with high temperature protection, ionisation pilot flame monitoring and fully automatic electronic ignition.
The burner on-off/high-low/pulse combustion/modulating controls shall be within the burner access compartment, and, in the case of Pulse Combustion control, be supplied with loose control box suitable for din rail mounting with PT100 sensor for site duct mounting, and for 0-10V modulating supplied with loose Mod 1 or 2 module for din rail mounting.
Comtherm Units upto 1.2mW
Select design requirements from the bold type options
Gas/Oil Fired Section ———- KW rated output
The gas/oil fired section shall incorporate a purpose built heat exchanger module with stainless steel hexagonal combustion chamber and tubular heat exchanger fitted to.a fully insulated sideplate enabling the complete withdrawl of the combustion chamber/tube bank from the duct or casing for service work or replacement. The module shall include the single skin air guide casing/twin skin casing including 50mm Rockwool insulation.
The matched, forced air burner shall be high-low control light oil/ high-low control blown gas/ fully modulating blown gas with a capability of a 4-1 turndown ratio with 0-10V control signal. The whole unit including burner shall comply with all related standards and where possible include the same manufacturers' burner as the combustion chamber and tube bank, etc, for complete matching.
Contents: