We provide the following:
•Steel tanks for diesel, biodiesel, lubricating oil, waste oil, cutting oils, chemicals and highly flammable liquids
•Polyethylene tanks for domestic heating oil
•Stainless steel tanks for potable water, edible oils, foodstuffs and corrosive chemicals
With the introduction of the new Control of Pollution (Oil Storage) (England) Regulations 2001 or Oil Storage, companies now have to ensure their storage facilities meet the Legal Requirements. However confusion remains regarding the fitting of double skin, bunded, secondary containment or integrally bunded tanks.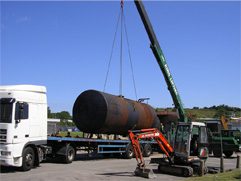 Remove & Replace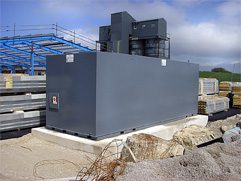 New Installations
The regulation guidelines point everyone in the right direction to ensure compliance. Our tanks were the first to achieve OFS T-200 – the standard for steel tanks referred to in the COP 2001 guidelines, and have received the OFCERT license for primary containers and enclosed bunded steel oil tanks.
OFS T-200 is now the specification quoted in all relevant publications – British Standards, the Environment Agency's PPG Leaflet and the CIRIA report on about ground, proprietary pre-fabricated steel oil storage tanks system.
COMPLIANCE
New tanks should comply with the regulations whilst existing tanks at significant risk i.e. near watercourses, drains, boreholes or walls, should have been compliant by 1st September 2003. All commercial and industrial tanks should have been compliant by 1st September 2005.